Tournament is postponed!
The European soccer Championship will now take place in 2021. Our match schedule incl. free layout will be revised with the new data and will be available again then. 
It is time again: the European Football Championship will take place in several European cities this year.
Exclusively for this mega-event we have again prepared the fantastic football pocket planner in mini format. An unmistakable and extraordinary graphic is available for you to download.
Top offer for the european championship 2021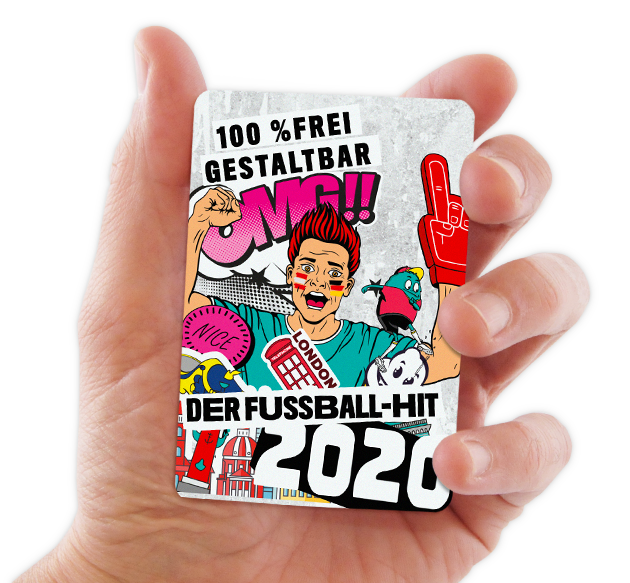 Our pocket guide has the ideal dimensions. It fits in any jacket or trouser pocket. Always ready to hand. Never miss a championship game again. All goals, all games, all information about the European Football Championship always at hand.
make football fans your fans
The schedule for the European Football Championship
For all football fans, our EURO-pocket planer is the perfect advertising medium. For one month, each day your personalized s-format® pocket guide will deliver your business message to the hands of eager football fans.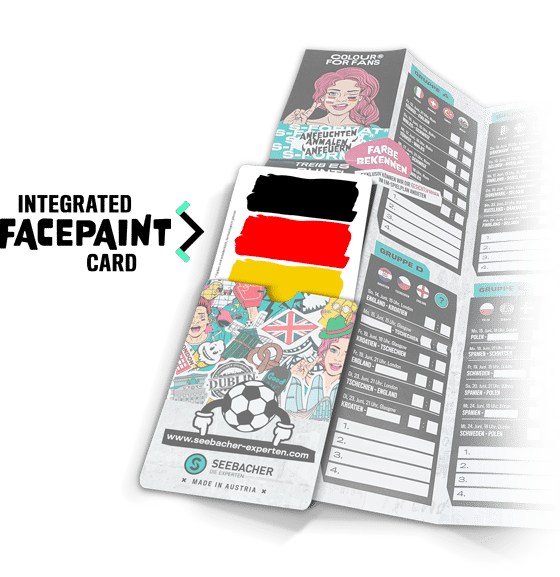 Facepaint
Colour For Fans®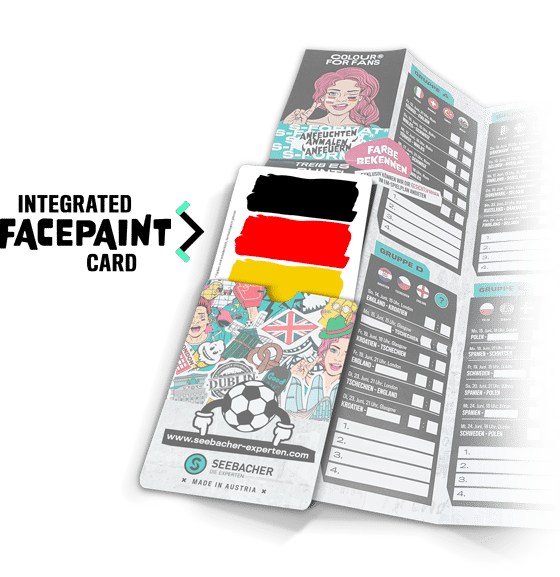 Convince with our cool free layout
Our design team has worked hard to create a modern and young soccer design that we really like. Since we believe that everyone should have one, we decided to create a template. for free. just fill out the form and you will receive the download link from us. 
We will follow up in a few days to see if you need creative help. For this purpose only we will store your contact information, per GDPR compliance rules.
design your cover and use our neutral and pre-produced inner part.
basic
customizable folding plan

integrated facial colours

reinforced cardboard covers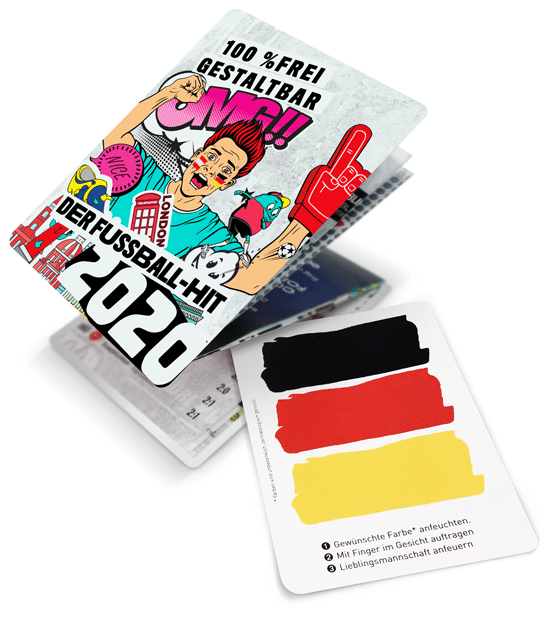 use our free layout and design your personal football pocket guide.
pro
customizable folding plan

integrated facial colours

reinforced cardboard covers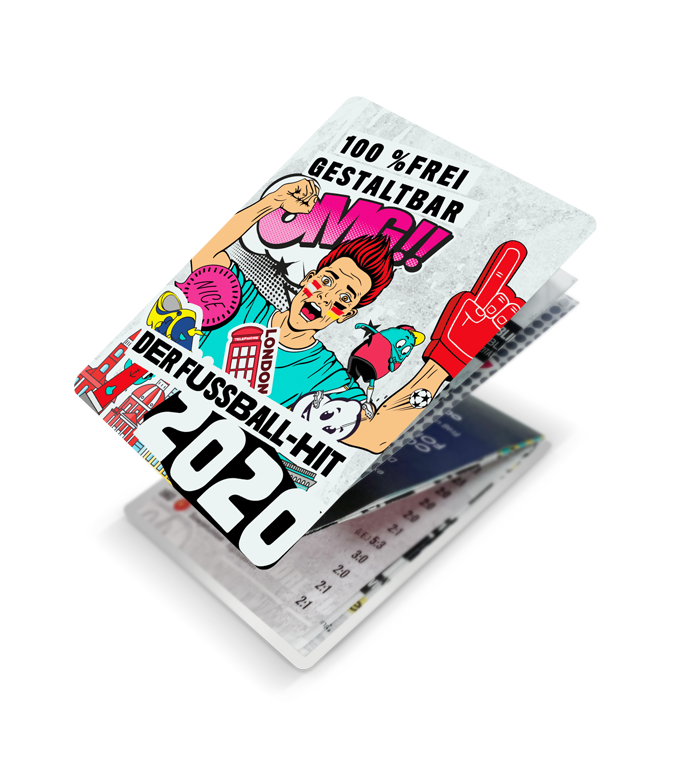 design your pocketguide in your designand use our free layout.
unique
customizable folding plan

integrated facial colours

reinforced cardboard covers
"Basic" price is for a minimum 500 pieces. The "PRO" and "Unique" prices are for minimum 10,000 pieces. Further prices on request. When using our free layout, the "Seebacher - Die Experten" logo is printed small on the folding plan. All information without guarantee. Misprints and changes reserved. We assume no liability for errors in the free layout.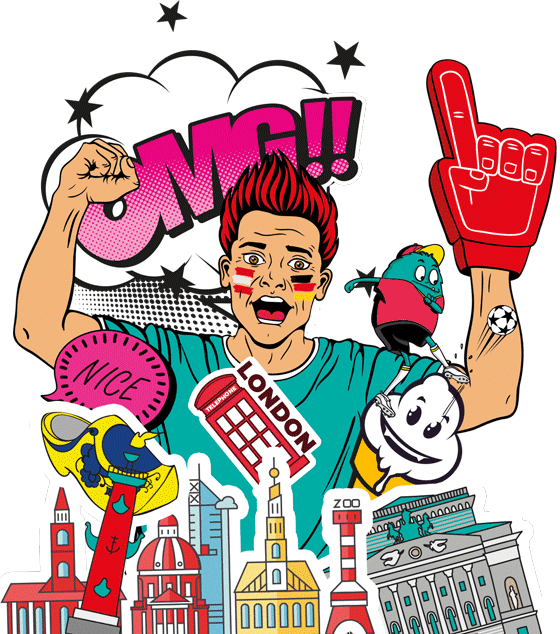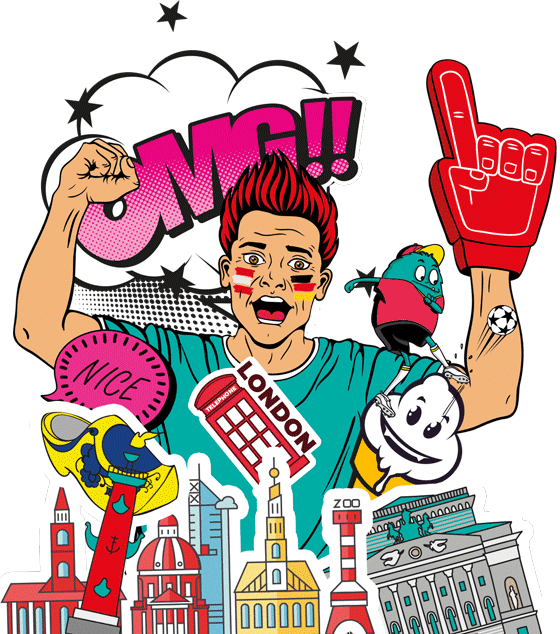 But our high-quality pocket planner is not only a super-practical game plan. If you like, you can also order the cool plan with individual fan face colours of your favourite national team.
A fan article that is not only extremely compact, but also has reinforced cardboard covers and integrated face colours "Colour For Fans" offers far more than any conventional standard print product.
You have a small business and still want to score points with your customers with the football pocket planner? No worries, we offer the Euro game plan from 50 pcs. And at surprisingly low prices!
In an unbelievable 8 days you can, for example, already hold 100,000 pieces of the ingenious pocket guides in your hands. The entire production of the pocket planners takes place in Hermagor and helps you save time and money!
Your soccer - Pocketplanner
Please let us know your desired quantity and your address. You will receive a tailor-made offer from us within the next 24 hours.
MADE IN AUSTRIA
Kuehwegboden 40
YEARS OF EXPERIENCE
since 1971
POCKET PLANNER
we are producing per year
EXPERTS
are working together